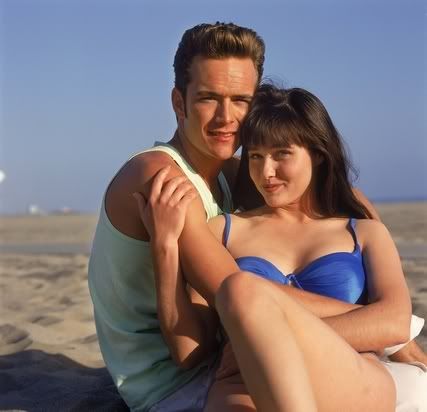 SOAPnet has been playing Beverly Hills, 90210 — and the cycle has flipped to the early eps once again. Man, was I a sucker for this show. Hook, line and sinker. One of these days, I'll write my ode to Brenda because she will always be my favorite character. (I still call bullshit on the whole Dylan/Kelly soulmates thing because. No. And you know they wouldn't have been paired in the finale if Shannen Doherty came back.)
It's funny to see all the random guest-stars, like Matthew Perry who showed up the other night as an athletic genius phenom who wrote a script about killing his father. Brandon was so worried! My god, would he do it? Luckily, Brandon came in to save the day even if he was so terribly off on Mr. Perry's motivation. Brandon's good like that — coming in to save the day. Well, when he's not off on a gambling binge or being drugged by Emily Valentine.
You know, 90210 (or, known in my college dorm room as nine-oh) delivered me right into the manipulative hands of Dawson's Creek. And The WB for that matter. After years and years of dwelling on Brenda, Dylan and the rest of the Peach Pit crew — how was I to resist a delicious helping of teen angst? Especially when 90210 was falling fast by the time the Creekers hit the screen. (I won't watch any episode if my Tivo mentions Matt or Gina. I still have a hard time with the Valerie era.)
My goodness — watching this all sends me back so hard, so fast.